Project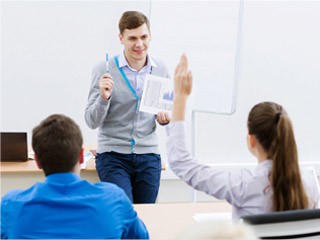 Our services include:

---

"Do what you wish"

Thelema Courses is a tutoring institution named after "Thélème", François Rabelais's famous utopia which fosters the principle of free will. Thelema means "will" in Greek. Indeed, we believe that academic success relies on free will that spurs each individual to achieve its full potential and find hard work highly rewarding.

Thelema Courses was founded by Mrs. Chassing, a highly qualified classical Humanities teacher, who spent most of her career at the French Lycée Charles de Gaulle in London (primary and secondary school). When she left, she decided to continue passing on her passion for literature and grammar, as well as helping students develop their plans for the future.

Hence, Mrs. Chassing started gathering around her a few students and for two years, she offered them private tuitions to deepen their knowledge of Seconde and Première syllabuses. Then, as demand for her tutoring services increased, she founded Thelema Courses to match them. Over time, the range of subjects taught has expanded. Today, a team of highly qualified and enthusiastic teachers delivers tutoring courses in a wide range of subjects. At the beginning, most teachers were Mrs. Chassing's own friends and today, some of them are even former students of hers.

The motto we chose underpins our mission.

We are committed to helping each of our students achieve greater success.
Some of our students come to us because they are unhappy with their results. We help them identify their weaknesses and address them. Others have excellent academic results and join us because they are eager to learn. We strive to meet their legitimate expectations to the best of our abilities. Our approach is based on small, carefully structured learning groups.

The number of curriculums we cover is gradually expanding

From CM2 to 5e level, our courses focus on spelling and grammar as those two subjects are crucial to academic success.

From 4e to 3e level, we organize preparation courses to the Brevet des Collèges exams aimed at further strengthening the fundamentals in grammar, while getting our students ready for Seconde level, emphasizing on vocabulary enhancement and getting them to understand literature.

As students are required to start thinking and taking decisions on their career plan, the Seconde level is a decisive step towards academic success. At this stage, we help our students get to know themselves better, find out what they like doing most and assess their skills so that they can make informed decisions on their future plans. Indeed, the students' ability to go through Première level successfully hinges on their command of the fundamentals in French and mathematics at the end of Seconde.

As for Première and Terminale students, our team draws all its attention on the preparation of Baccalauréat exams. We are proud to see our students rewarded for their efforts.

Emphasis on Method through Individual Mentoring

We have noticed that some of our students struggle to organize their work and personal projects, which often leads to harmful stress and even demoralization. If students are unhappy with their results albeit their efforts, generally it is because they haven't come across a suitable method of work. We pay particular attention to tackling this specific problem during decisive levels such as 6e, 4e and Seconde levels, so that it wouldn't jeopardize their success at exam levels (3e, Première and Terminale). We offer those students tailored courses focusing on method. A closer follow-up can also be arranged upon request. The objective is to help them grasp the basic knowledge required for the level they are going through and select the method of work that best suits their character.