Tutoring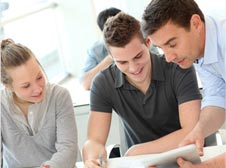 Our services include:

---

Small, supervised study groups

These courses are dedicated for CM and 6e pupils aiming at helping them develop efficient methods of work. This way, every day after school, pupils have the opportunity to focus on their homework efficiently under the attentive oversight of a qualified teacher who will also help them strengthen and develop their knowledge.

Small group courses

The classes are delivered by qualified and experienced secondary and higher education teachers to secondary students. These courses are designed to:

– strengthen and further develop the students' knowledge.
– acquire and perfect the students' methods of work so that their leaning bear fruits.
– benefit from an stimulating environment of work.

We believe that providing help to develop a young person's individual skills, with the support of their peers and teachers, is the best way to unlock his/her full potential. We deliver courses in a wide range of subjects, spanning French, mathematics, philosophy, literature, history and geography, socio-economics, history of art (suitable for students who intend to take Baccalauréat exams as independent candidate or for Terminale L students), physics and chemistry, biology, preparation courses for entrance to the French classes which prepare students for the Grandes Ecoles entrance exams (training colleges) and individual preparation courses for students planning to take the French School of Political Science entrance examination (Sciences Po)… For further information on courses availability and timetable, don't hesitate to contact us.

One-to-one tuitions

These courses are delivered by tutors who have made it through our demanding recruitment process. All of them have excellent qualifications and didactic skills. Their overriding objective is to ensure that their students have an excellent command of the basic knowledge. They also see to it that they have developed appropriate methods enabling them to work efficiently and independently.